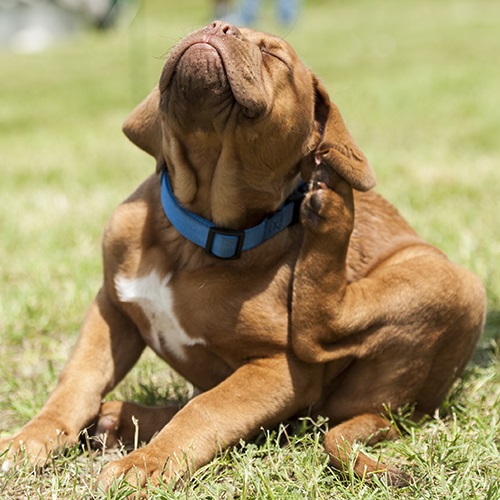 Fleas can cause problems for pets ranging from minor to life-threatening. Not only can these parasites cause severe itching, irritation, and allergies, but they can also transmit tapeworms and diseases. Fleas can infest dogs, cats, ferrets, mice, and rats. For more information, contact us or see the flea article in the Pet Health Library on our site.
You don't want these blood-sucking parasites on your pet or to infest your home. We can help keep them away or help you get rid of them if they've already found their way inside. Call us to find out how to eliminate and control fleas or to start your pet on a preventive today.
The product that we encourage to use for Canines is Bravecto which is an oral tablet protecting your pet for three month intervals. Feline Bravecto is a topical application that offers protection as well for three months. These products are very safe for your pet, waterproof and offers complete flea protection. Bravecto begins killing fleas within two hours of application.
You can pick up your Bravecto from either the Animal Medical Center of Surprise or on our online pharmacy, Vetsource on our front page.