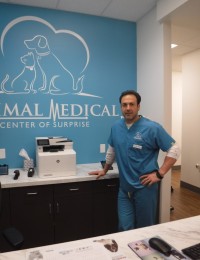 I have been practicing veterinary medicine since 1998. My undergraduate work was done at UW- Wisconsin Stevens Point graduating with a Biology major and a chemistry and microbiology minor. I received my D.V.M degree from UW- Wisconsin Madison. I have been living in Arizona for over 18 years now and consider this my home.
I had previously been chief of staff at a corporate hospital that was ranked the number one hospital out of thirty five in both Arizona and New Mexico in the year of 2014. As that chapter has closed the new chapter of Animal Medical Center has now evolved. I am excited to serve the community thru pet health education and preventive care here at the Animal Medical Center of Surprise.
My fur family consists of four cats, Peep/Polly/Boo and the newest adoption, Kiwi! One of the four always needs some level of attention when I'm home. My other passions are working out, traveling and boating at Lake Pleasant in the hot summer days.
I practice veterinary medicine with care and passion. I do not take lightly that you place your trust in me, and feel it is an honor to see your furry family member(s) every time whether it's simply for preventative care or if your concerned about the well being of your pet.
I welcome anyone to come visit the practice and meet with me and tell me about you and your furry loved ones. If time permits Ill be happy to give you a personal tour of the practice. My door is always open to you and your pets. Sincerely, Dr. Paquin
Affiliations
Present Affiliations for Dr. Paquin
AZVMA: Arizona Veterinary Medical Assoc
AVMA: American Veterinary Medical Association
AAHA: American Animal Hospital Association
Pima Medical Advisory Board
Relations Manager, Legacy Acquisitions Group
Arizona Veterinary Medical Examining Board Investigative Committee (2000-2003)