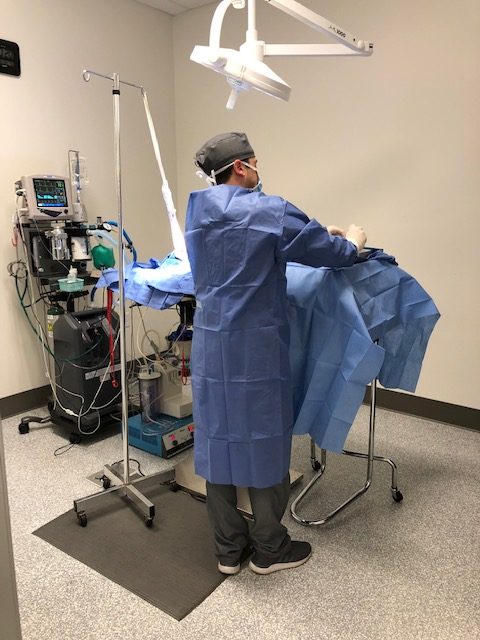 We Are Able To Offer Advanced Soft Tissue & Orthopedic Surgeries
This is a list of the most common surgeries conducted, but not limited to this list:
T.P.L.O for Anterior Cruciate Ligament tear/rupture
Medial/Lateral Patella Luxation
Femoral Head Ostectomy
General Fracture repair
Limb Amputation
Portal Systemic Shunts
Total/Partial Colectomy
Perineal Hernia Repair
What Is a Veterinary Surgeon?
​Like most health care fields, the veterinary profession has become multi-tiered. Veterinarians may now specialize in various disciplines including:
surgery
internal medicine
radiology
anesthesiology
ophthalmology
dermatology
cardiology
oncology
Specialties are recognized by the American Veterinary Medical Association's American Board of Veterinary Specialties.
If your animal develops a problem or injury requiring advanced care and procedures, we have a Boarded Veterinary Surgeon that can provide that care here at Animal Medical Center of Surprise.
Advanced Training
A veterinary surgeon has undergone additional training after veterinary school in order to become a specialist. This training consists of a minimum of a 1-year internship followed by a 3-year residency program that meets guidelines established by the American College of Veterinary Surgeons (ACVS).
During the residency there are specific training and caseload requirements that must be met. In addition to these requirements, applicants must perform research that is published in a scientific journal and then pass a rigorous examination.
Specialists are called a "Diplomate of the American College of Veterinary Surgeons" or a "board-certified surgeon."
Your Animal's Healthcare Team
All veterinarians may perform surgery as part of their veterinary practice. However, difficult cases may be best managed by a specialist. Dr. William Linney, a mobile Board-certified surgeon works closely with you the owner and the veterinarians at AMC of SURPRISE before and after surgery in a team approach to ensure continuity of care for your animal.
Following surgery and any postoperative follow-up care, the primary veterinarians at AMC of SURPRISE will resume ongoing care of your pet.
Dr. William Linney is dedicated to providing the very best in surgical care. Dr Linney also acts as a resource for your primary veterinarian by providing consultations on difficult or unusual cases. With his advanced training, he can offer expertise that ensures the best possible outcome for the patients.